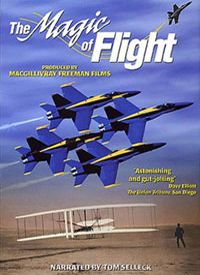 WARNER BROS. PICTURES and IMAX® FILMED ENTERTAINMENT
A MacGillivray Freeman Film
Narrated by Tom Selleck
Music by Steve Wood and Daniel May

In The Magic of Flight, we are inspired by a bird's innate ease to take flight and review early flight attempts, as well as the ultimate successful flight of the Wright Brothers in 1903. The variety and versatility of today's flying machines are also displayed throughout the film. We learn how the Harrier jet mimics a bird's landing and take-off. The jet can be delicately maneuvered at slow speeds yet capable of moving over 500 mph. We also witness naval aviators, with the ability to fly up to 1,300 mph, precisely land on an aircraft carrier, the most difficult maneuver in all of aviation.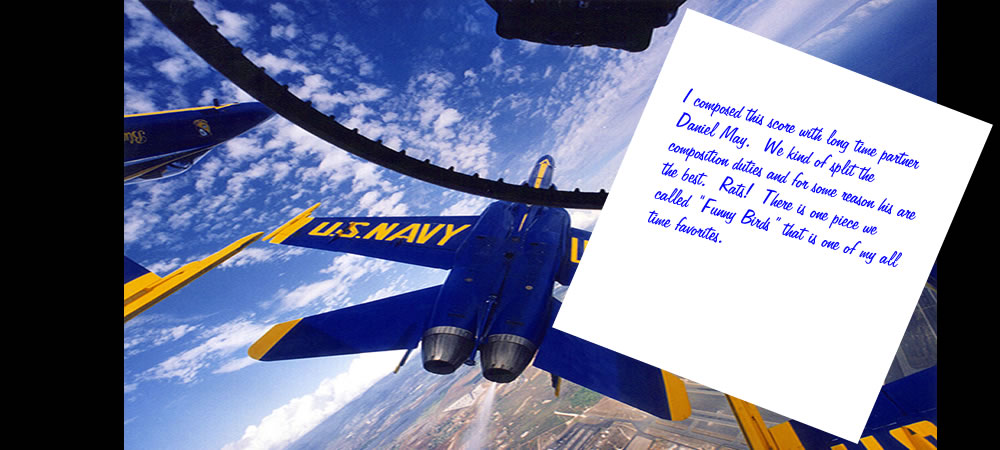 REVIEWS
"...especially impressive is the cinematography that features pilots traveling at hundreds of miles per hour under tremendous G-force pressure…one of the best examples of combining science and nature on the big screen."
—Times-Dispatch, Richmond, VA
"…images of dizzying beauty, many of them taken from the point of view of the Angel's pilot…grapple with the technology that makes vertical spins survivable."
—The Seattle Times
"Fasten your seat belts and place your seat in the upright position, because you're in for one exhilarating excursion."
—Times Colonist, Victoria
"Watching the Blue Angels Air Show won't be the same ever again. The film all but puts the audience in the cockpit."
—The Pensacola News Journal