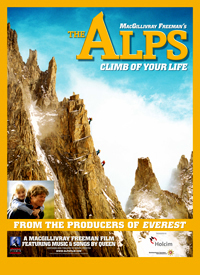 MacGillivray Freeman Films
Narrated by Michael Gambon
Featuring songs and music by Steve Wood and Queen
In the thin air above Switzerland, on the sheer rock-and-ice wall known as the Eiger North Face, American climber John Harlin III is about to embark on the most perilous and meaningful ascent he has ever undertaken: an attempt to scale the mountain that took his father's life.
His extraordinary journey will take him to Europe's majestic mountain range, the Alps, where he will witness the amazing feats of engineering that forged bridges, tunnels and charming villages amidst the peaks; where he will learn about the life-saving science of avalanches; and where he will confront his darkest fears and greatest potential as he climbs to honor his father, who taught him to love Switzerland, mountains and life itself.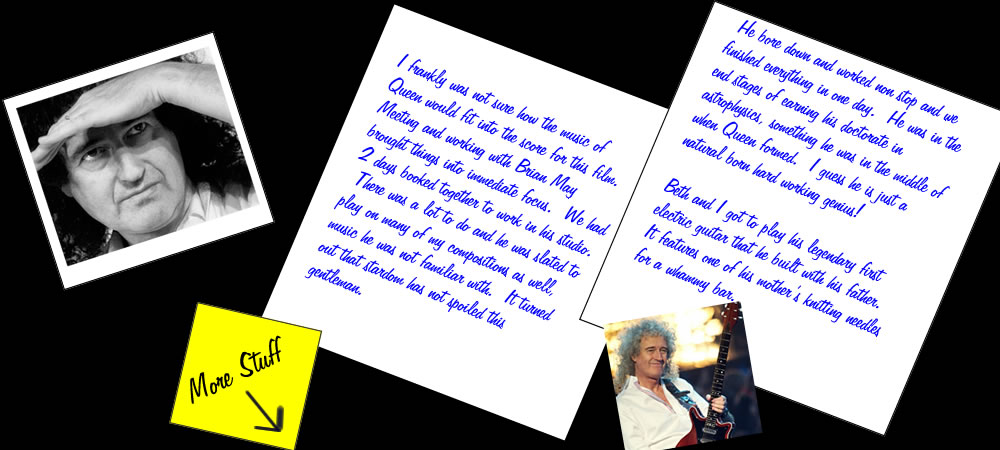 Beth and I spent a day with Brian May in his Carriage House studio outside London. He is a lot of fun to be around, a gentleman and a hard worker. We had 2 days booked to do a lot of work, mostly consisting of material he was not familiar with (my original score). He just put his head down and we got it all done in one day.
Many of my guitar playing friends wanted me to find out the "secret recipe" to his tone. Well here it is;


-1 hand made guitar that he built as a kid with his father (including a whammy bar made from his mother's knitting needle.
-1 long guitar cable plugged directly into;
-1 stock Vox AC30 amp with;
-2 Shure SM-57's, one in front and one in back.
Sorry, the magic part comes from the human at the front of that chain.
We also spent an afternoon at Abbey Road Studio with our friend Simon Rhodes. He is a staff engineer there and we met on the Duetto project. Simon has recorded over 100 film scores including Avatar and Harry Potter 1 and 2. Wow, that is really hallowed ground. Of course all the Beatles music cut there comes to mind but the list of credits and the pictures on the wall are about as impressive as anything as I have seen.
REVIEWS
"…a breathtaking survey of death traps in one of the most hazardous mountain ranges on Earth...one of the most dramatic productions ever seen." — Seattle Times
"High adventure. Human drama. Heartbreaking tragedy...a heart-in-your-throat excursion into the Alpine landscape interwoven with a true story that has become a climbing legend." — Arizona Daily Star
★★★★(out of four)
"...breathtaking to watch, but also informative, fascinating and emotionally arresting...gripping viewing for the whole family." — Tonight (South Africa)
"The dangers were many and the climb was agonizing at points...Harlin's quest for closure is emotional, treacherous and absolutely captivating." — Montreal Gazette
AWARDS
Best Cinematography and Special Achievement in Filmmaking (for aerial cinematography)—Giant Screen Cinema Association Achievement Awards, 2007