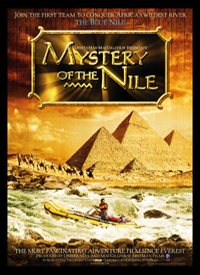 Produced by Orbita Max,
MacGillivray Freeman Films
Music by Steve Wood and David Giro

The epic story of the first complete descent of the world's deadliest river. Join the expedition deep in Africa, as they set out to complete one of the last great adventures of the modern age: running the full length of the Blue Nile, known as the Mt. Everest of rivers, from its source in Ethiopia to the Mediterranean Sea.
Led by expedition leader Pasquale Scaturro, this tenacious group becomes the first in history to conquer all 3,250 miles of the river, overcoming nearly insurmountable obstacles in the process: Class V and VI rapids, a crocodile attack, dangerous hippos, arrests by Ethiopian and Egyptian militia, gunfire from bandits, blinding sandstorms, malaria threats, and the relentless heat of the fierce Saharan sun. Over the past century, many explorers attempted the same feat but have died trying.