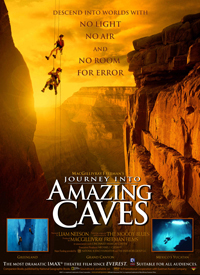 MacGillivray Freeman Films
Narrated by Liam Neeson
Featuring music by Steve Wood & The Moody Blues
Explore the mysterious world of the underground: the world's most remote, unexplored caves. Follow two female cavers as they search for extreme living organisms in the ice caves of Greenland, the underwater caves of the Yucatan Peninsula, and the earth caves of the Little Grand Canyon. Featuring unprecedented footage from unique and forbidding ice caves, underwater caves, and terrestrial caves.
Wriggle through tiny, twisting passages, drop into gleaming blue labyrinths of ice, swim through flooded underground vaults, and enter a world so extreme the microscopic creatures who live there are called extremophiles. Circle the globe, stopping in the hot, lush Yucatán; dropping into barren, frozen Greenland and flying above the primitive red rock Arizona desert. And hold your breath as expedition leaders, Dr. Hazel Barton and Nancy Aulenbach, rappel down steep cliffs into unmapped chambers, hoping to bring back startling new discoveries that may unlock new cures for human disease.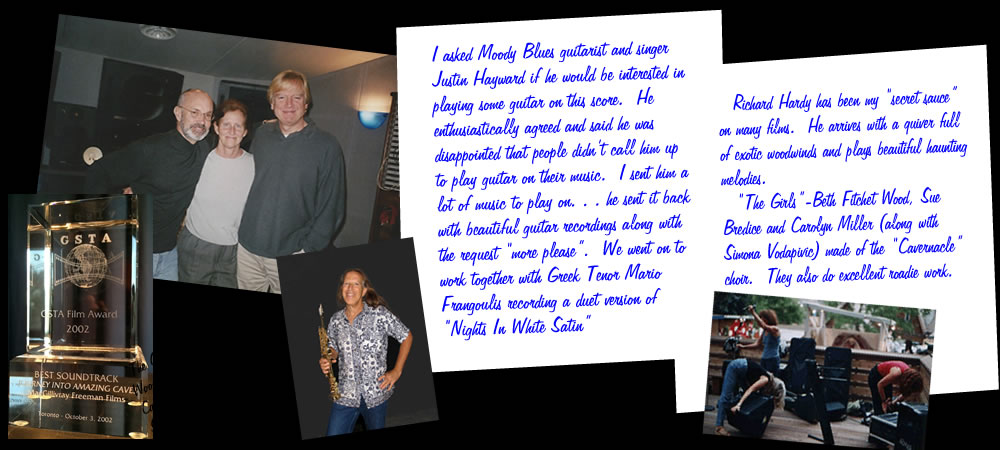 REVIEWS

"…the most beautifully exotic locations on the planet."
—Los Angeles Times
"It is a breathtaking sight…an engrossing look into the earth's secret places."
—Cincinnati Enquirer
"…more than delivers on its title's promise. The challenges of [the caves] are formidable, and their beauty on the big screen is breathtaking."
—Hollywood Reporter
"One of the best IMAX films…an always engrossing, often enthralling trip into the beauties, and all-too-frequent dangers, of cavern exploration."
—Santa Monica Daily Breeze.
AWARDS
The highest grossing giant screen documentary film of 2001
Best Soundtrack of the Year 2002—Giant Screen Theater Association
MAC Award for Best Distributor of the Year 2001—Giant Screen Theater Association
Merit Award for Excellent Cinematography—International Wildlife Film Festival
Gold WorldMedal—New York Festivals, 2001
Golden Eagle Award (Documentary Feature)—CINE 2002
Silver Screen Award—U.S. International Film & Video Awards, 2002
Silver Statuette—Telly Awards, 2002
Gold Special Jury Award—WorldFest-Houston, 2002
Intermedia-Globe Gold—World Media Festival, 2002
Bronze Plaque (Nature & Wildlife category) and Certificate of Excellence in Media Print (Press Kit and Teacher's Guide)—The Columbus International Film & Video Festival
Silver Hugo—International Communications Film & Video Competition